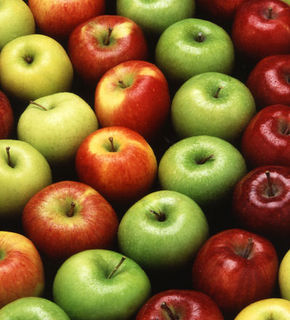 Making applesauce is the easiest thing on the planet. I suppose the only thing easier to make is a glass of tap water with ice. I don't know why I didn't do this years ago!
So how did you do it, Signe? Well after scouring the internet and seeing somewhat daunting recipes with lemon, vanilla, sugar and cinnamon, I decided to just wing it. It turned out exactly the way I wanted it-- appley. I don't like my applesauce with sugar or anything else in it. I want a healthy snack, not a treat. The only applesauce available here is the treat kind. And runs you just about 3000c ($6) because it's imported. So here it is, my
easy-peasy applesauce recipe
!
Get some apples, a naturally sweet kind. Not granny smith. I used the reddish-yellowy ones they have at the feria. I'm going to guess they are gala or something similar. Some sites recommended using a variety. I just used my reddish-yellowy ones.
Wash, peel, and cut the apples into chunk-lets. I'm going to try with the skin on next time because I'm lazy and the skin has lots of goodies in it.
Put about 1 inch of water into a pot. Throw in your apple chunk-lets. Turn stove on HIGH.
When the water starts to boil, turn stove to medium high.
Cook the apples until they're soft, stirring occasionally (about 10 or 15 minutes). So soft that if you try to mush them with a spoon, they mush.
Scoop out soft, warm apple chunk-lets and put into a blender. It's a good idea to do this in 2 batches.
Press the "PULSE" button about 10 times or until all chunk-lets have turned into sauce.
Pour into containers (no jars needed). It will last in the fridge for about a week and a half.
Cool. Enjoy!
With my 6 small reddish-yellowy apples I made one small container of applesauce. If you want a more liquidy applesauce, just pour in that apple water. It is apple juice after all!
And if anyone is interested in my
yogurt phase
, I've made a few more discoveries. When you blend a fruit into the yogurt, the yogurt becomes really liquidy. My strawberry yogurt was quite liquidy, my mango yogurt not so much. So what I thought was the answer was to strain whatever yogurt you plan on blending with fruits. I did that this time, and my yogurt still turned out liquidy. I think that perhaps the strawberries have too much water in them and make the yogurt thinner. I don't have any mangoes right now, so I need to wait and see if that is the answer. That runny, strawberry-y yogurt is still really freaking good though. Because it was already so thin, I went ahead and added a spoon of honey. YUM YUM!
Oh and here's the math for making yogurt vs buying yogurt:
Store Yogurt
My Yogurt
500g = 1500c 1800g = 900c
1g = 3c 1g = 0.5c
colones saved: 4500 (or $9.00) wooo!
And here's a picture of my puppy. Because she makes me laugh all day!